Prenatal Interview :
This is a comprehensive 45 minute appointment to meet your doctor, get a feel for the office in general, and discuss any questions you have. First you will have the opportunity to meet Jennifer, our in-house Board Certified Lactation Consultant and RN.  She is available for support and guidance regarding lactation issues and more through the beginning as well as the entire length of your breastfeeding relationship. The rest of the appointment is spent meeting with your doctor.  Most of the time parents want to hear our general philosophy and approach to medicine as well as our thoughts on vaccinations, sleep, nutrition, hospital birth procedures, etc.
First Time Consultation or Vaccine Consultation:
If you have recently moved and are looking for a new doctor, if you are considering joining the practice with an older child but would like to meet the doctor first, or if you would like a second opinion regarding your child's medical care, you may schedule a first-time consultation with us.  This can be a parent-only discussion or with the child present.  This is a 45-60 minute appointment with your doctor where we can discuss your child's particular issues, our general philosophy, vaccines, etc. After this consultation, if you decide you would like to join our practice, we can help you request your child's previous medical records and make it official!
The First Week of Life: Newborn hospital visit(s) or home visit, Day 3-4 visit (by Jennifer)
Every hospital requires a visit from a pediatrician in the first 24 hours of life.  If you deliver your baby at St. John's, Santa Monica Hospital, or Cedars, we will travel to the hospital to perform the newborn exam with you present.  Each hospital has its own set of rules regarding how often we must see well babies.  Babies born at a hospital not listed will be cared for by a hospital staff pediatrician and records will be sent to us upon discharge.  Babies delivered at home should be seen within the first 48 hours of life.
The baby must be seen again at 3-4 days of life to ensure that things are going smoothly.  In our office, this is accomplished with a home visit from Jennifer.  Not only is she a wonderful resource if you are breastfeeding your baby, she is also an expert in new baby care. Plus, you don't have to bring your newborn to the office right away!
The First Year of Life: 2 weeks, 2 months, 4 months, 6 months, 9 months.
The first year of your child's life has quite a few Well Child Visits!  These visits are more frequent because your child grows and develops at such a rapid rate.  You will meet with your doctor every time to establish a relationship and to monitor your child's development and physical health.  Common discussion topics include: breastfeeding, nutrition, sleep, vaccines, and safety.  Since these visits are about an hour long, there will be ample time to address any concerns you may have.  The first checkup in the office for your newborn is usually at two weeks of age.  However, any of these first few checkups are easily arranged to be done at home with a House Call.  Many families find that their child is so healthy during this period that there are no sick visits at all!
The Second Year of Life: 12 months, 15 months, 18 months.
The Well Child Visits in the second year of life are for continued monitoring of growth and development, nutrition, and physical health.  Anticipatory safety guidance and appropriate screening for any developmental delays are crucial at this age.  Your child will become more and more independent, and therefore discipline and behavior management are also common topics of discussion.
Entering the Third Year of Life (2-3 years):
The Well Child Visits in the third year of life are mostly focused on your child's continued progress in growth and development, with particular attention to language, behavior, and social functioning.  Many parents will also want to discuss sleep, diet, and milestones such as toilet training.
The Rest of Childhood (3-10 years): Annual Well Child Visits
Once your child is three years old, Well Child Visits become annual.  Well Child Visits during these years get more dynamic as children begin to participate in discussions of nutrition, growth, safety and self-care.  These visits remain about 45 minutes to an hour enabling us to continue to look at the ways sleep, growth, developmental, and behavioral needs are growing and changing.  Beginning at age four, we will also evaluate hearing and vision every 1-2 years.
The Beginning of Puberty (11-13 years): Annual Well Child Visits
If you are joining our practice now with a baby, it's probably pretty hard to believe that you'll be scheduling Well Child Visits for your own child at this age!  But, if are joining us with an older child, you can attest to the fact that these important Well Child Visits will be here before you know it.  They are important years with many changes, and the yearly physical exam can help predict how soon these changes will occur.  Discussions on nutrition have never been as important!  Hearing and vision are done every 1-2 years at this age.
The Teenage Years (14-18 years): Annual Well Child Visits
These Well Child Visits often occur under the guise of the "sports physical", however, they serve a much more significant purpose.  Your teenager is becoming an adult before your eyes, and is hopefully taking on more responsibility in terms of self-care.  Topics of discussion include diet and nutrition (always!), exercise, mood, school, and behaviors common to their age group.  Occasionally the visit will involve confidential issues that your child wants to discuss with a person they know will be a reliable source of information.  As such, these visits often run longer and we usually schedule them for one to one and a half hours in length. Hearing and vision are done every 2-3 years at this age.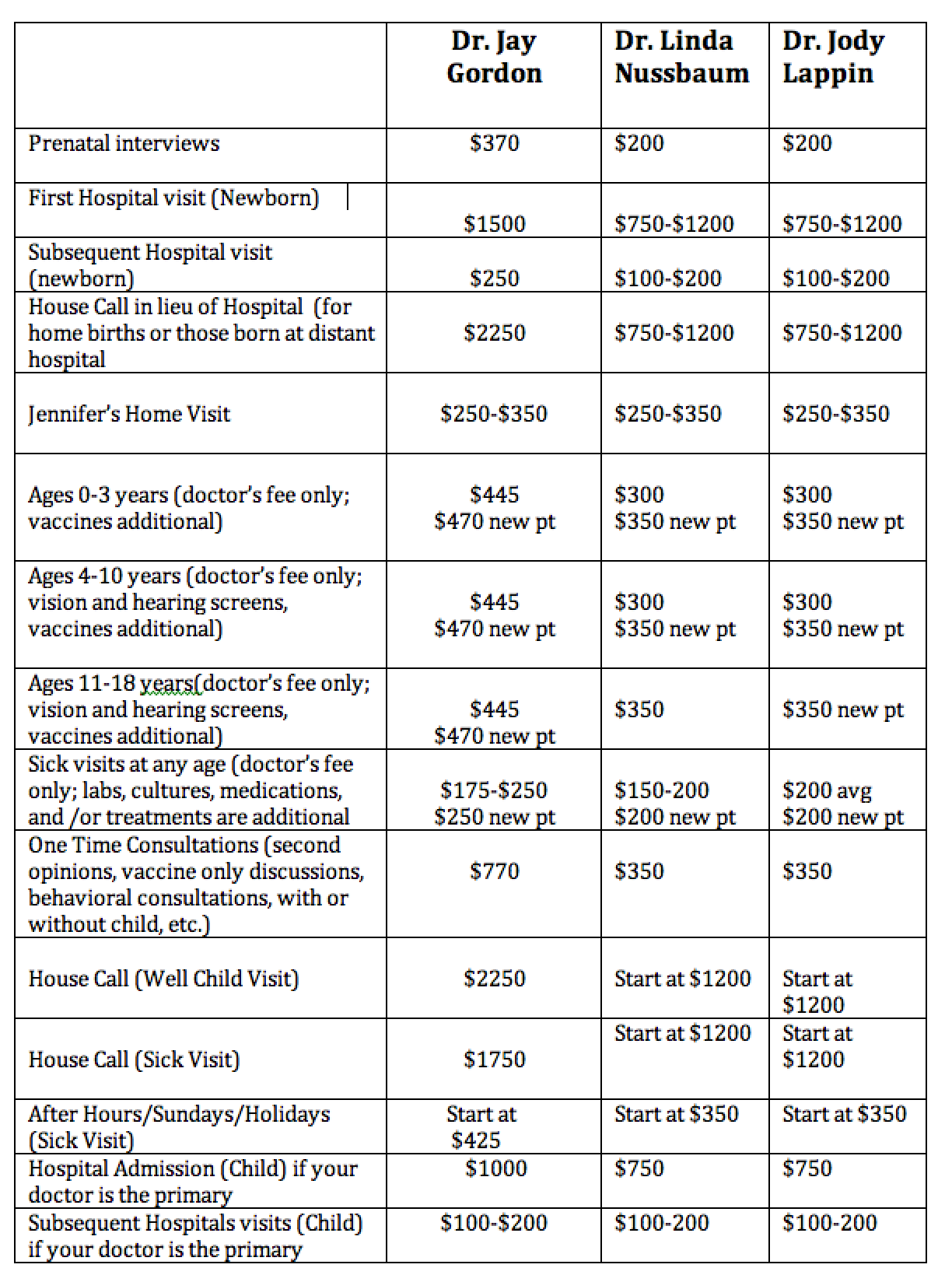 Annual Administrative Fee:
In addition to your scheduled visits, each new family joining our practice is assessed an annual $250 administrative fee.  This is due each year in January.  This fee enables us to keep our office well-staffed with extremely competent and professional people.  Our staff is incredibly good- our RNs have over one hundred years of cumulative experience caring for children and our staff has an average tenure of twenty years.   We never want you to have to push five answering system buttons to reach a nurse or to schedule an appointment during the day, and we've added new staff to our office family over the past few years to ensure just that. In order to maintain this level of responsiveness, each family pays an annual administrative fee of $250. If you are expecting a new baby and the annual fee just feels like one expense too many that first year, please let us know. We will be happy to work with you.
A Word About Dr. Jay's Cell Phone Plan:
About ten years ago, a number of patients expressed their interest in being able to reach Dr. Jay directly 24/7. This pilot group and Jay carved out a plan in which he provided his cell phone number and they paid a monthly fee. They loved it, and so did Dr. Jay's wife. Okay, maybe not quite as much as his patients!
Over time, Dr. Jay has come to feel that this is the ideal way to practice medicine–to have the doctor on call responding to an after-hour emergency or concern be one who knows the patient well! "As long as I've been in pediatrics my goal has been to offer top quality care to the families in my practice. My office has long offered a flexible approach towards vaccination and antibiotic treatment and have made appointments long enough for extensive discussions of alternative medical care, nutrition, and family medical issues. Now I'm reachable through a cell phone number all the time. You will be able to reach me when you travel from any country and any time zone. (Oh, please watch those time zones when you can!)."
The intent of this service is to increase your access to Dr. Jay and to an RN who knows you and your family. For more information about this plan, please contact Michele at Michele@drjaygordon.com or ask to speak with her in the office.